First topic message reminder :
So, you want to step in to the darkness and become a Sasuke "Taka" user? Well you've come to the right place, this will teach anyone a couple of tips and tricks to use with Sasuke!
Into the depths of Darkness...The General Guide to Sasuke "Taka"
A) Pros and Cons
B) Abilities
C) Supports
D) Awakening
E) Gameplay
A) Pros and Cons: The Light and Dark of the Mangekyou
PROS:
- Quick movements
- Chakra Shuriken throws a continuous line of Shuriken, good for pressure
- Grab has a wide range and is quick
- Mid-combo teleport
- Good ninja tools, can create a big difference in speed
CONS:
- Chakra Shuriken are easily subbed
- Battle strategy is very combo reliant
- No easy attacks that cause strike back
- U2 is utterly slow
B) Abilities: The sky is the limit for a hawk
Attack (Strings/Combos, Grab and Tilt)
- The most notable thing about Sasuke's combos is his habit of sweeping behind or around his target. This gives him some defense against Substitutions (KnJ) and he can also move to the opponent, even from across the screen with his Neutral B/O combo. This means that even if the opponent subs out of your attack, continue to mash B/O in order to teleport to the unsuspecting opponent who is most likely preparing to U2/U1 you.
-
After Glow
(Grab). Sasuke forms a wave of electricity in front of him. It has a wide range which will catch anyone attempting to combo or dash at Sasuke from the sides or directly in front. It's not too special, it will leave the opponent on the ground and it will put some distance between you two for chakra recovery/ninja tool usage.
-
Chidori Sharp Spear
(Tilt). On it's own difficult to use, but if you happen to land it, the second strike will send the opponent into the air; a perfect set up for a U3 or U1 if you're quick enough.
Projectiles (Shuriken, Kunai etc.)
- Normal Shuriken: Throws a couple of Shuriken, 3-4, an average amount.
- Chakra Suriken: Sasuke throws a line of lightning infused shuriken. They are fast and there are a lot. This is useful to interrupt enemy strategies. From a distance the last few have good homing, which means the opponent will need to use Ninja Movement for that much longer. it's very easily substituted, in other words it's mostly used for pressure.
Ninja Tools
-
/
Akatsuki Robe: Raises defense for a set period of time. (x1)
-
/
Speed Down Tag: Throws a tag, if hits, decreases opponents speed for a set period of time. (x2)
-
/
Speed Up Food Pills: Increases speed for a set period of time. (x2)
-
/
Floating Kunai: Three floating bags are thrown and explode after 2 counts. (x2)
Jutsu (U1 & U2)
-
Chidori
. He will dash towards the opponent with Chidori. Quick, with good homing, good distance and cannot be jumped over. It is also one of the fastest running jutsu's. It should be noted that it does a relatively small amount of damage. It drops the enemy down right in front of you.
-
Chidori Blade
. Charge Chidori by holding the B/O button for a few more seconds and Sasuke will teleport-dash in a linear fashion towards the opponent and stabs them with the Chidori infused blade, then kicks them away. He has partial invulnerability with this dash and it causes SB. This move is very easily blocked by skilled players, and has a lot of lag if blocked, so it is recommended to use Sasuke's right directional pad Ninja tool (Floating Kunai) for some defense.
-
Amaterasu
. A black flame tracks the opponent down for a short distance then bursts. This move is very slow and cannot be hit after SB. After it's initiation, if you are hit it will still track the opponent. Also, this move has priority over U3's and goes through Defensive Circle Jutsu's (Pain, Hinata and Neji). Be careful though and measure the distance careful in order to figure out if you have enough time to successfully counter the U3. Remember, there is quite a bit of start up time before the flame is is released.
C) Supports: Even within the darkness, allies are needed...
Attack
- Attack supports assist in combos and perform the almighty strike-back. I recommend using attack supports for Sasuke due to his reliance on combos. They will join in on the attack and make substituting a bit more difficult. Especially for those who are used the timing of his attacks.
Guard
- Guard supports will guard you when you charge chakra. They will stop an enemies Chakra Dash leaving them open for punishment. Also good to have if the opponent doesn't give you a chance to awaken, blocking all projectiles.
Balance
- Balance supports will throw Chakra Kunai when you throw your Chakra Kunai. A balance support will take a U2 attack for you, although they will become unusable for a while. With Ino and Chiyo as supports no one will be able to get near you. (Or anyone with exceptional Chakra Kunai)
D) Awakening: Mangekyou Sharingan!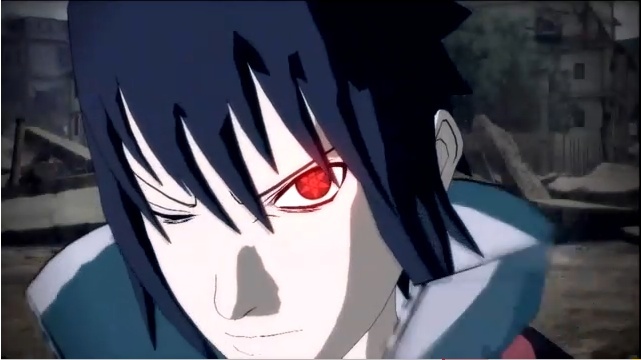 Sasuke 'Taka' awakens the Mangekyou Sharingan. Him and his attacks are now enhanced with lightning element making them harder to substitute and do more damage. The duration is average, if a variety of moves are used. Although if one chooses to spam Amaterasu it will deplete rapidly giving you only a few shots (4-5).
Jutsu (U1)
Amaterasu
. Sasuke uses the divine technique received from awakening his Mangekyou Sharingan. The small black flame will track the opponent for a very long time and erupt on impact. Does a lot of damage even on block. Sasuke grabs his eye in pain leaving him wide open for attacks, although the opponent will usually be too busy trying to dodge Amaterasu.
E) Gameplay

Credit to Cinik for the gameplay video!
Overall Sasuke Taka is a good character with a deadly arsenal of attacks. He has some safety in his neutral B/O combo and very fast techniques.
Credits
-
cinik
for the gameplay video.
DZCinik's Channel
-
Ziiko
for the U2 priority information.
U3 Info *Finished*