Minato:The Yellow Flash of the Leaf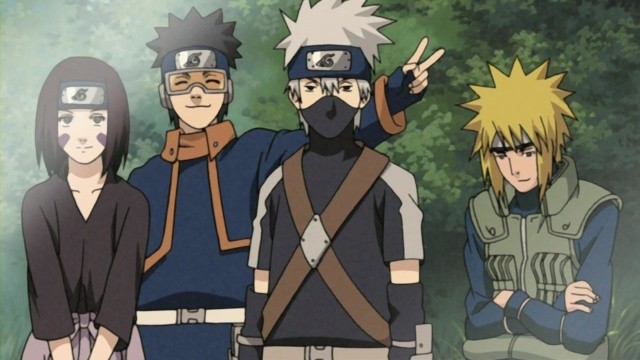 Type:Close Range
Specifics:High Speed character w/ very fast jutsu & items 2 increase speed
Jutsu's: Rasengan, Time Space Rasengan Barrage
U1: Chakra charge & press B or O for rasengan (hold button for rasengan barrage). Rasengan has almost no time starting up which makes it a very good jutsu for counter attacks but unlike narutos rasengan it doesnt follow the opponent, instead it goes in a straight line so if u miss be rdy to knj or take some punishment frm the opponent. Rasengan barrage is similar to Taka's chidori blade it does more dmg than the normal U1 but it takes time to charge and when executed minato will move in zigzags (I would only recommend using barrage only wen the opponent is stunned).
U2: The Yellow Flash. Minatos U2 rasengan also goes in a straight line like the U1 rasengan but it doesnt go as far & is slightly slower. It is best to use the U2 when the opponent chakra dashes & after an atk support strikeback.
Tilt: Minato's tilt throws a kunai,if the kunai hits you can teleport to the opponent and hit them with a combo.
Awakening: Minato's awakening replaces his chakra dash with teleportation. Whats most interesting about this is that minato can teleport while in the air and even during an air combo! This opens up all sorts of combo opportunities and can be deadly wen used by the right person
Minato is one of the most misused characters in the game. Most ppl spam his U1 rasengan but he has more than that. His chakra kunai shoots 3 kunai tht follow the opponent so it has a higher chance of hitting the opponent. Minato can also cancel his combos about 2-3 hits in for a rasengan which has good knockback so an atk support character would b a pretty good choice wen using minato.
Supports:Naruto (Parent and Child) Kakashi(Kanabi Bridge Engineers)Jiraiya(Mutual Respect)Tsuande(Past Hokages) Naruto & Jiraya(Legendary Guts) Naruto/Pain/Konan (Jiraya's Apprentices)
Strategy: Minato is a close range fighter with most of his attacks only working at close range. His chakra kunai shoots 3 kunai which is good for an opponent who is far away. Minatos close range moves are fast which is good for a person who likes to punish their opponent. Also a good way of using him against a person who likes to knj is to do 1-2 hits then go straight into a rasengan. If u knj wit minato u can perform a U1 or U2 depending on the situation.
Weaknesses: Has a slow grab which gives the opponent time to knj or counter, and U1 moves in a straight line (or zigzags) so if u miss the opponent can either hit u wit a U1 or U2
Minato is a fast character with fast jutsus which wen used properly can overwhelm the opponent and even end the fight quickly. He's one of the best characters when used properly
Credits:
Pics- Google Images
Info- my own experiences
Special Thanks to Anbu Apoc. His kakashi info card inspired me to write this mini guide. thx Apoc